When farmers and ranchers enroll in a carbon program, one step in the process is data collection. Why? Data collected at the farm or ranch level is used to gain an understanding of the current operation and evaluate the current and future sustainability impact through sequestering soil organic carbon. The data points collected help to validate the influence an operation can have through sequestering soil organic carbon
At Agoro Carbon Alliance there is a dedicated Grower Success Team that helps farmers and ranchers collect data as a part of their carbon program participation. Later in the process, a third-party soil sampler will visit the operation to ensure accuracy at no cost to the producer.  The key to carbon cropping and sustainable practice changes is verifying carbon is sequestered thanks to the conservation ag practices implemented by our growers and the data to back it. At Agoro Carbon, we register our initiatives with Verra Standards to produce high-quality and high-impact carbon credits. This requires three years of historical information to meet qualification standards.
The data points needed to generate carbon credits depends on what conservation practice a farmer or rancher selects. When producers join the Agoro Carbon Alliance, they can expect a dedicated team that will help as much or little as desired to collect the data needed to start their carbon journey. Below are examples of some of the data points that may be asked of a producers: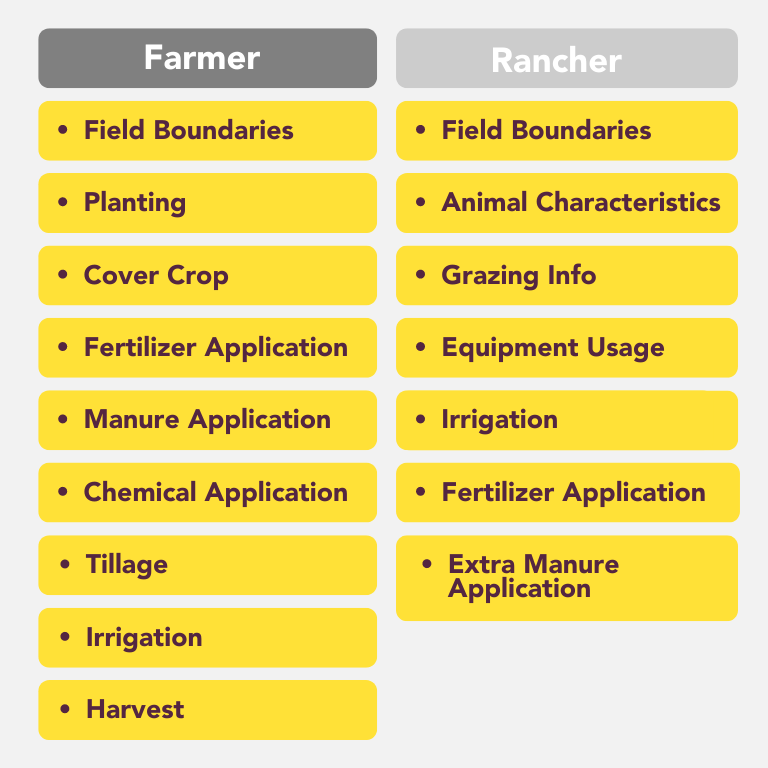 If you have questions about carbon program data collection or would like to drop us a line, please shoot us an email here.
Published on: November 14, 2022
Global Marketing & Communications Lead
Amber joined Agoro Carbon Alliance in May 2021 and immediately helped launch the US carbon program. Since then, she has focused on developing the US growth marketing team, strategy and plans from the ground up to shape Agoro Carbon's brand, market recognition, and support lead generation goals. Prior to joining Agoro Carbon, Amber managed the global corporate brand and North American marketing at AgroFresh, an AgTech innovator that offers a portfolio of products that combat food waste for specialty crops. She has a wide range of B2B and B2C experience in the following industries: agriculture, medical devices, retail, commercial real estate, and nonprofits. Amber earned a degree in Strategic Communication at Temple University.
LinkedIn