Understanding The Carbon Cycle In Farming
Carbon naturally cycles through agroecosystems in all management systems, but some systems are better than others for increasing soil organic carbon (SOC).
Crop roots and residues add carbon to soil organic matter (SOM) and microbial respiration eventually emitting carbon dioxide (CO2) to the atmosphere.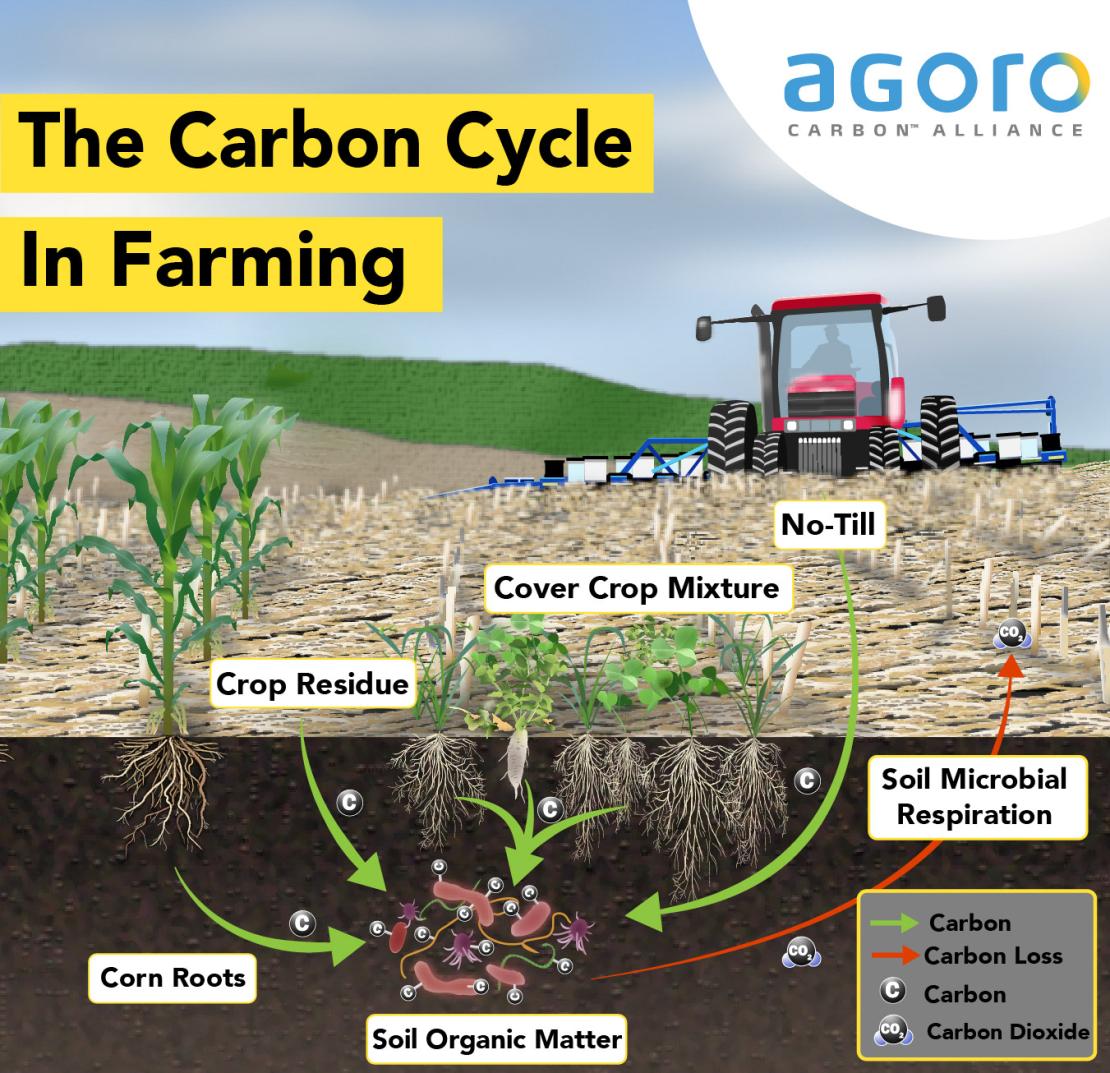 Soil organic matter is over 50% soil organic carbon (SOC), and it is sensitive to cropping management practice differences. Intensive tillage and crop residue removal in the mid-to-late 20th century resulted in major losses of SOC from cropping systems in the United States.
Conservation agriculture practices such as reduced tillage, no-till, and cover cropping can reverse the trend of SOC loss by adding a significant amount of carbon to the soil agroecosystem. Each time a soil is tilled a significant amount of CO2 is lost from the soil. No-till can therefore reduce much of that loss. In addition, the increased residues from a reduced or no-till system create a gradual, continual flow of additional carbon to the soil.
Cover crops also contribute greatly to increasing soil carbon, because their residues are not harvested, and they add extensive, deep roots that then decay. Combined, reduced tillage or no-till with cover cropping is one of the best methods for increasing SOM.  The result is increased soil health, helping farmers to create more resilient farms with increasingly volatile weather.
Prefer to listen? Our agronomist explains this process here:
 

Published on: August 25, 2022
Agronomist, California and Pacific Northwest
Matt has an eclectic professional background and considers his path in agriculture a non-traditional one. He specializes in soil moisture monitoring, arid soils, nitrogen management with cover crops, variable rate nitrogen management, and wheat and potatoes. Matt grew up in the suburbs of Ohio and Utah. He worked on horse ranches during a couple of summers, but it was his time spent in rural villages abroad that generated his interest in agriculture. He completed a year-long Fulbright project in Moldova, which helped him to recognize the importance of agriculture in economic development. Prior to getting more involved in agriculture, Matt served as a children's educator, worked in the solar industry, and managed city recreational events. He earned his B.S. in Recreation Management from BYU and M.S. in Plant Science from NDSU. He gained experience during grad school working on various research projects, and later at Penn State as a research assistant managing corn and soybean trials (which involved precision soil sampling and cover crops). In 2019, Matt became the precision ag manager for Mountain West at Simplot, creating prescription maps and gaining expertise in soil moisture monitoring. During the last several months of his time at Simplot, he became increasingly involved with their internal sustainability team, working closely with a sustainability manager to estimate the carbon footprint of potatoes. His time with the sustainability group led Matt to an 'irresistible' opportunity with Agoro Carbon. Matt is a Certified Crop Advisor and is currently working on his ag irrigation specialist certification.